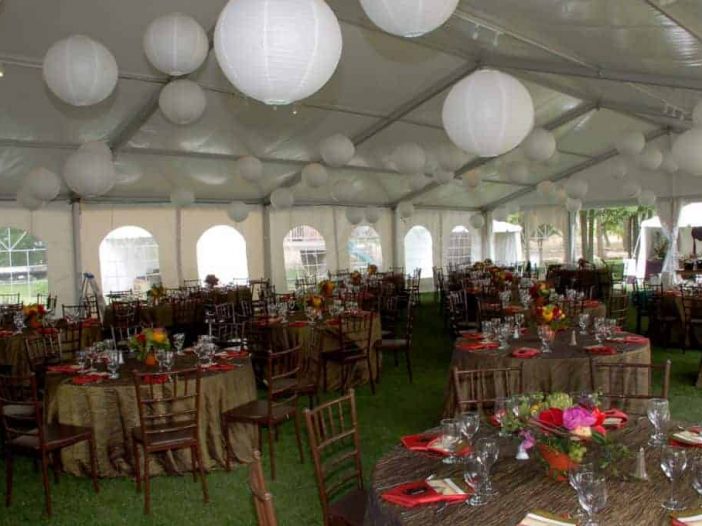 Planning a wedding can seem overwhelming, with a seemingly-endless list of things to consider – from paring down guest lists and finalizing food choices to designing invitations and selecting the perfect venue. Wedding planning can be time-consuming, confusing, and unfortunately very stressful.
That's where the convenient Tent Wedding Packages from Special Event Rentals can really assist! These pre-selected packages of products and services greatly simplify the process, making your wedding planning much simpler and more affordable. Each package is tailored to include all necessary items for an elegant tent wedding, including an appropriately-sized tent along with tables, chairs, dance floor, bar, cutlery, china, glassware, table linens and napkins.
Special Event Rentals offers three levels of Tent Wedding Packages, ensuring that there is an alternative to suit every budget and event design. The Basic Tent Wedding Package is available for those on a tight budget, and includes all the necessary items to ensure a successful tent wedding, while maximizing affordability. The Premium Tent Wedding Package offers an upgrade on many items while keeping the overall costs as affordable as possible. For those who truly desire an upscale look and feel for their tented wedding, the Elite Tent Wedding Package is specifically designed to offer class-leading selections in chairs, linens, dishware, etc. ensuring a truly memorable event, while still offering the simplicity and cost-advantage of a pre-selected overall packaged solution.
Tent Wedding Packages from Special Event Rentals are perfect for any wedding reception – and because there are three different packages to choose from, you can make sure you respect your budgetary constraints, while still making your wedding day truly memorable!